Pass Box is a kind of auxiliary equipment in a clean room, which is mainly used for the transfer of small items between clean area and clean area, and between clean area and non-clean area, in order to reduce the opening frequency of cleanroom and reduce the pollution to the minimum level. Cleanroom Pass-through Box
made of stainless steel plate, smooth and clean.The double door interlocks with each other, effectively preventing cross-contamination. It is equipped with electronic or mechanical interlocks and equipped with an ultraviolet sterilizing lamp.
Cleanroom Pass Through Box is widely used in micro science and technology, biological laboratories, pharmaceutical factories, hospitals, food processing industry, LCD, electronics factories and other places that need air purification.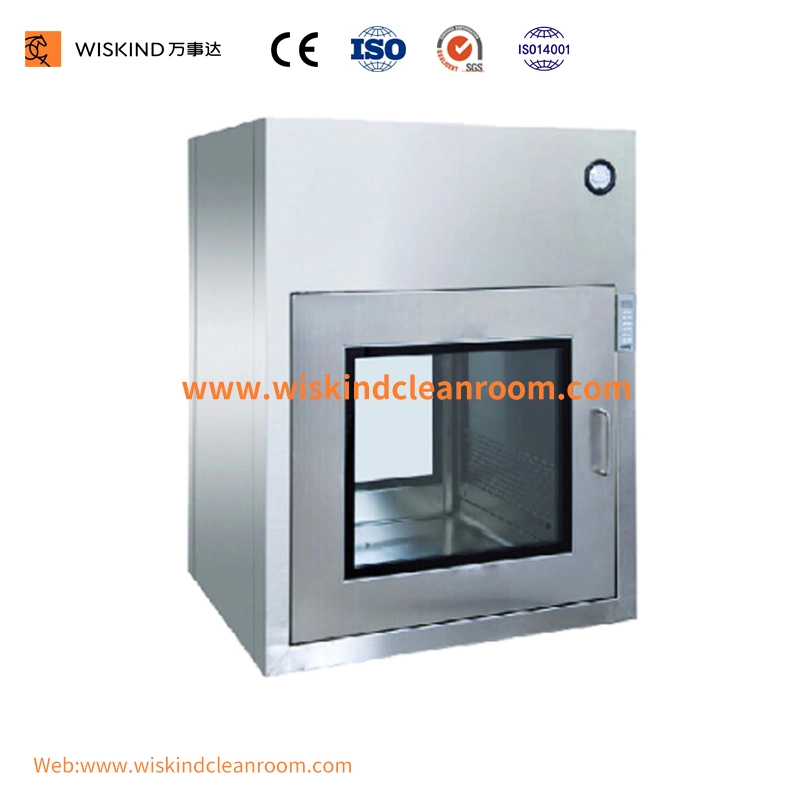 Product Features:

1. The box is made of stainless steel SUS304 material, arc transition work area.
2. The doors on both sides are interlocked to ensure that the doors on both sides cannot be opened at the same time.
3. Built-in double-layer tempered glass window.
4. The clean delivery window has the function of automatic blowing and dousing, which can effectively remove the dust on the surface of the goods during the delivery process.

Configuration Description of the Clean Transfer Window:
1. 304 stainless steel material, the internal integral arc structure, easy to clean.
2. PAO injection interface and test interface, 304 stainless steel quick connector.
3. H14 tank sealed HEPA filter with a high-efficiency differential pressure table.
4. With ultraviolet sterilization lamp, sterilization time can be arbitrarily adjusted, and with sterilization timing and sterilization time cumulative function, can be arbitrarily set sterilization lamp and fan start at the same time.
5. Independently developed LCD panel controller, two magnetic lock interlock, automatic and manual two for the user to set, in the automatic mode has a variety of functions users can set, with time and function display, with call function.
6. The fan can be automatically started at the same time after closing the door.
7. Built-in door, double-layer black tempered glass, with desiccant.
8. Fan, customized fan, air supply time can be adjusted.
9. Design the fresh air inlet (located in the high clean area), increase the internal positive pressure, and adjust the air inlet volume.
10. Accept the user's special design.

Notes:
1. The transfer window is suitable for general transportation. During transportation, rain and snow should be prevented to avoid damage and rust.
2. The transfer window should be stored in the storeroom where the temperature is -10ºC~+40ºC, the relative humidity is no more than 80%, and there is no acid, alkali or other corrosive gases.
3. When unpacking the container, the container should be operated in a civilized manner. No rough or brutal operation is allowed to avoid personal injury.
4. After opening the box, please first confirm whether the product is the ordered product, and then carefully check the contents of the packing list to see whether there are missing parts and whether the parts are damaged due to transportation.

Operation Specification:
1. Wipe the goods to be transferred with a 0.5% peracetic acid or 5% iodine-volt solution.
2. Open the side door of the transmission window, quickly place the goods to be transferred, sterilize the transmission window with 0.5% peracetic acid spray, and close the side door of the transmission window.
3. Open the ultraviolet lamp in the transfer window and illuminate the object to be transferred for no less than 15 minutes.
4. Notify the experimenter or worker in the barrier system, open the transfer window inner door, and take out the item.
5. Transfer window a side door closed.

Installation Method:
Choose convenient position in-wall body, open a hole next, the hole is bigger than transfer window outer diameter 10MM or so commonly, put transfer window into wall body, install in-wall body commonly, maintain balance is fixed, will decorate the aperture of transfer window and wall body with round horn or other adornments, hot glue to seal to decorate can.

About Us:

Wiskind was founded in the late 1970 s, focusing on the cleanroom containment system research and development and manufacturing, covers an area of 1000 mu, the existing staff of more than 1700 people, 160 million square meters building products, distribution on Wiskind 41 years experience in industry research and development and resource integration advantages, has now become a professional cleanroom containment system service, through years of unremitting efforts and persistent pursuit, obtained the customer and society. Has passed FM, CE, SGS, ISO9001, ISO14001 certification.

Shandong Wish Wiskind Clean Technology Co., Ltd. is a Wiskind to exploit market and set up a subsidiary of clean industry, focusing on cleanroom containment system research and development and manufacturing, rely on Wiskind 41 years of experience in industry research and development and resource integration advantages, has now become a professional cleanroom containment system service providers, advocates, and practitioners of modular cleanroom panel smart manufacturers and domestic maximum capacity. The company owns the first automatic production line of cleanroom panels with independent intellectual property rights and the world's leading automatic production equipment for cleanroom doors and Windows. Serving many large system engineering enterprises at home and abroad, and occupying the leading edge in the engineering field of biopharmaceutical and medical industry; CSPC PHARMA, Qilu Pharma, Anti-Lu, north China pharmaceutical, and many other worlds tops 500 enterprises have used the company's clean series products.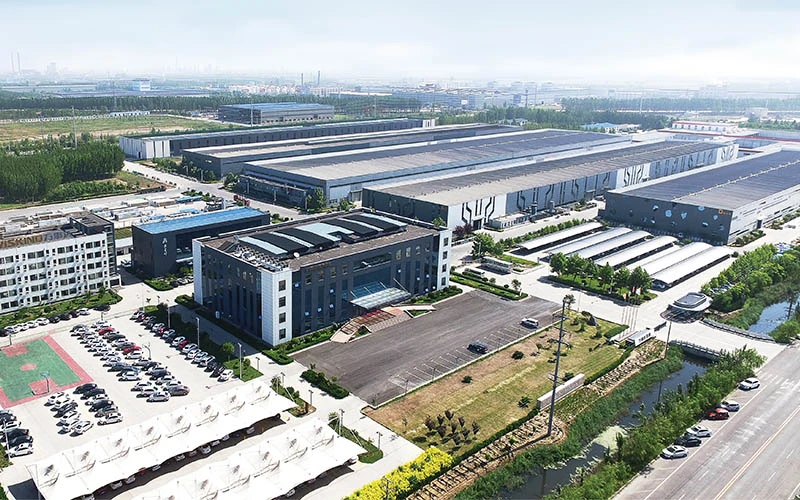 With Shandong university institute of technology can be established, equipped with professional study of more than 70 people, 15 undertaken projects in science and technology of province and city, five scientific and technological achievements appraisal, 160 patents, with 90 valid patents, patent award 9 binzhou city, four of the binzhou city science and technology prize, 1 item of China technology market association golden bridge awards, golden bridge awards two technology market association of Shandong province, Shandong famous brand one.

Wiskind has always believed that it is our eternal responsibility to create value for our customers and make their projects better. Regarding product quality as life, integrity innovation, the pursuit of win-win with customers, employees, society, in the opportunities and challenges of constant development, is moving toward a higher, faster, stronger goal.

Wiskind provides a comprehensive solution plan for professional cleanrooms and implements all-round, integrated services, including requirements analysis, project design, quotation, production order, delivery, construction guidance, and daily use and maintenance services. China's 4 subsidiaries, 13 offices and more than 100 business and technical personnel throughout the country, to provide customers with timely, face-to-face services.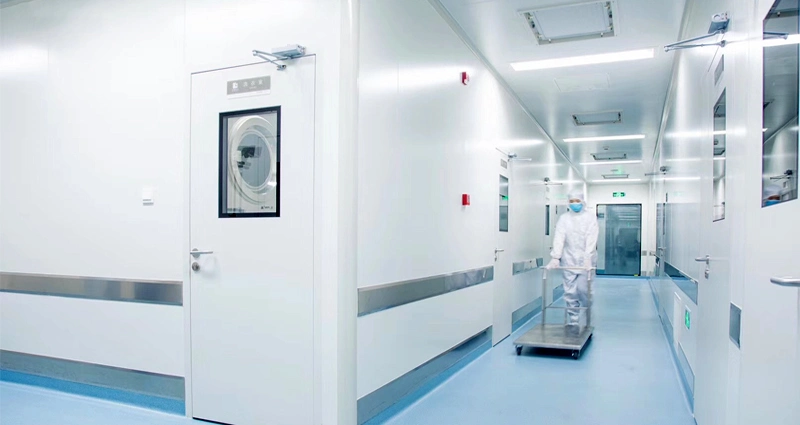 FAQ:

1. Are you a Factory/Manufacturer Or Trading Company?
We are a manufacturer with 41 years' experience of production and have a modern standard plant of 1,000,000 m².

2.How about your lead time?
It will take 3-7 days for budget and design according to the drawings after receiving the deposit. 15-30 days if there are some special sizes.

3. Can you sell products all over the world?
Yes, we have 4 subsidiaries, 13 offices, and more than 100 technical supervisors all over the world, providing timely and face-to-face service for customers.

4.How about your core competitiveness?
We have the first automatic production line in the world. Compared with the traditional manual production line, the production efficiency increased by 6-8 times, leading to most competitors. That means lower cost and higher quality.

5. Do you have your own construction team?
No, but all of our cleanroom panels and connected parts are easy for disassemble and installation due to our excellent design. What's more, we provided the instruction and videos for installation and we can send our professional supervisor to the site.

6. How many kinds of products do you have?
At present, we have more than 30 different products, including a cleanroom wall panel system, ceiling system, clean room door, clean room window and so on.

7. Can you provide samples? Is it free or extra?
Yes, we can provide samples for free, but we would appreciate it if freight to collect.

8. What are your terms of payment?
30% T/T prepaid, 70% T/T before delivery. We can discuss payment if we have more cooperation in the future.

If you want to know more about the products, please check our website:wiskindcleanroom.en.made-in-china.com